IF YOU GOT HERE VIA A SEARCH ENGINE THIS WILL TAKE YOU TO THE WAGNER HOME
Removing the Front Band and Floor Plate
These two items seem to cause a lot of problems, judging from my e-mails and discussion on the boards.
The floor plate was designed to be removed with the tip of a bullet, however, the current crop of floor plates fit too tightly for the method. If you have a stubborn plate, turn the rifle/action over, clamp it into a vise or otherwise make it stable,
with a stout pin punch or Phillips screwdriver, press down on the spring-loaded plunger. (You can get at it through the hole in the floor plate. If it refuses to move, tap on the end of the punch.)
With the plunger depressed, tap the punch toward the trigger guard.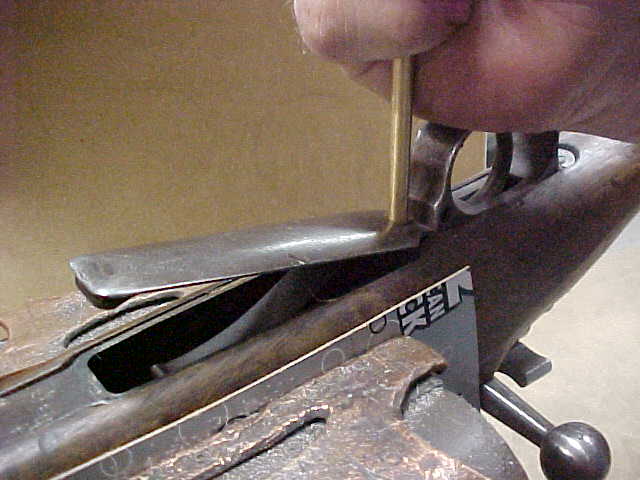 The floor plate will pop off!
With a file, clean off all the dents and burrs on the magazine box and plate mating surface and clean out under both plate hooks.
The front band is held on with a spring catch. THE CLEANING ROD MUST BE REMOVED, and then the spring can be depressed.
If the spring is very stubborn, use a pair of slip-joints, pad one jaw so as to not mar the barrel, put a spacer on the spring, and squeeze. Squeeze near the band and work the band off. You may have to tap the bayonet lug with a hammer. (Use your third hand.)