IF YOU REACHED THIS PAGE VIA A SEARCH ENGINE

THIS WILL TAKE YOU TO OUR HOME PAGE

OR

THIS WILL TAKE YOU TO THE SHOP TOOLS INDEX PAGE

Tools for the Amateur Riflesmith

Page 4
This is a bench block, a hardened piece of steel about 1 1/2-inches high and 3-inches in diameter. The holes and the transverse "vee" allow holding small items and provide a surface to remove pins. The hardened surface allows the block to be used as a small anvil. These are often on sale in the Wholesale Tool catalog for $13. Brownells sells the exact same item for $31. Brownells also has a Nylon version of the block for $16.
The bench block can also be used on the drill press.
The three items above are indispensable. At the top is a Carbide Scribe, used to scratch lines on metal and other surfaces. IF AT ALL POSIBLE, GET ONE WITHOUT A MAGNET, the damned magnet will drag things around at the worst times, and pick up stuff from your box and drop it on the floor. At the bottom is a Starrett automatic center punch. Buy the Starrett, I've never seen another one that works as well. These devices allow one-handed center punching, just place the point and press the handle down, and a spring-loaded plunger will make a mark. It also is good for "moving" miss-punched marks. Starrett makes two sizes, the smaller is the one you want. The also make replacement points, but in ten years, I've not needed to replace a point. Brownells, Wholesale and Enco all sell these. In the middle is a common center punch, used to define the marks made by the Starrett punch.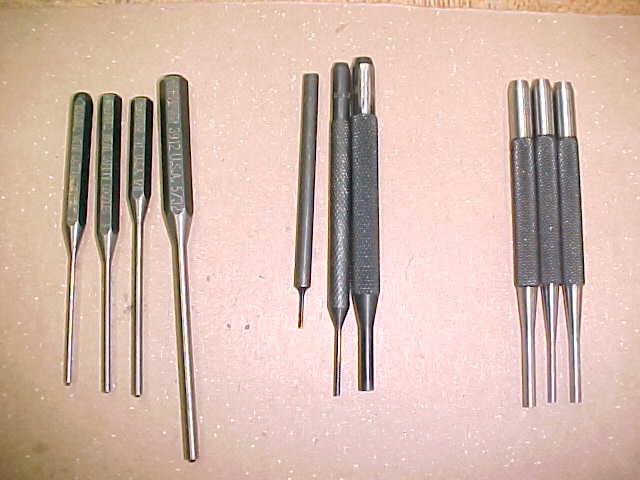 Here we have some "pin punches" used to remove and install pins. The three on the right are Starrett and in the middle, Chinese. The Starrett look better, but the Chinese are OK. The four on the left are special punches used to remove roll pins, commonly found in newer, cheaper firearms and used exclusively in the AR-15 series of rifles.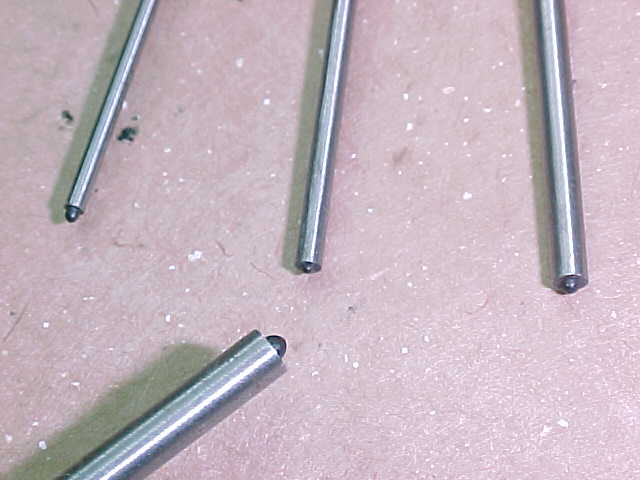 The roll pin punches have a small dimple in the center of the driving end. The dimple fits in the center hole of the roll pin, keeping the punch centered and helping to prevent slipping.
These are transfer punches. They are designed to transfer the center of a drilled hole to a mating surface. For example, say you have a scope base with two holes, secured to a firearm with one screw. A snuggly fitting transfer punch would be placed in the other hole and lightly struck with a hammer. This would mark the center of the second hole for drilling. Like This !! These sets come in fractional, numbered and letter sizes and cost about $10 a set.