IF YOU REACHED THIS PAGE VIA A SEARCH ENGINE

THIS WILL TAKE YOU TO OUR HOME PAGE

OR

THIS WILL TAKE YOU TO THE SHOP TOOLS INDEX PAGE

Tools for the Amateur Riflesmith

Page 11

These are some 'smithing specific tools and fixtures that can be made as the need arises.
These Ý Ý Ý are the stamps, and a jig for holding them, that are used to mark the caliber and other info on the barrel/receiver of a firearm. This link shows how to make the jig.
This is an easily made hand vise (as long as Wholesale Tool has the drill chuck on sale, it's been on sale for over five years). Here is a link showing how it's made.
Ý

Ý Ý This is the business end of a holder used to hold small screws while shortening, grinding or whatever. This link shows how it is built.
Ý

Ý Ý This shows a Mauser action with a mandrel passing through the bolt-way. The mandrel is used to hold the action in a lathe while truing the action. If you have a lathe big enough to do action work, then you can build these yourself. Here's how J .
Installation and removal of barrels requires a vise to holt the barrel while a wrench is used to turn the action. This is a shop-made barrel vise. This is a link to the details.
In the rear is a jig used to aid in the installation of a side-swing safety for a Mauser. The photo is mostly of a Mauser shroud with the holes and cuts required too install the safety.
Here's a Link to Info on making a Jig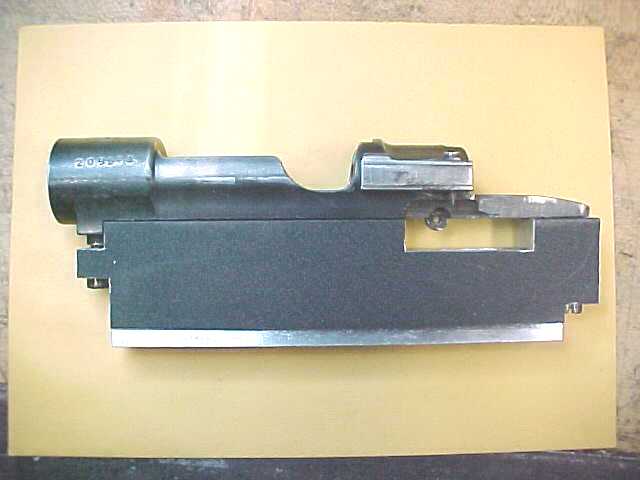 While we're talking about Mausers, this Ý Ý Ý is an action holding block, used to hold a receiver while hacking away at it. And here is a link to the description J .