IF YOU REACHED THIS PAGE VIA A SEARCH ENGINE

THIS WILL TAKE YOU TO OUR HOME PAGE

OR

THIS WILL TAKE YOU TO THE SHOP TOOLS INDEX PAGE

Tools for the Amateur Riflesmith

Page 7

The best glue for all around shop work is Brownells AcraGlas. It has only one drawback - it takes 24-hours to cure.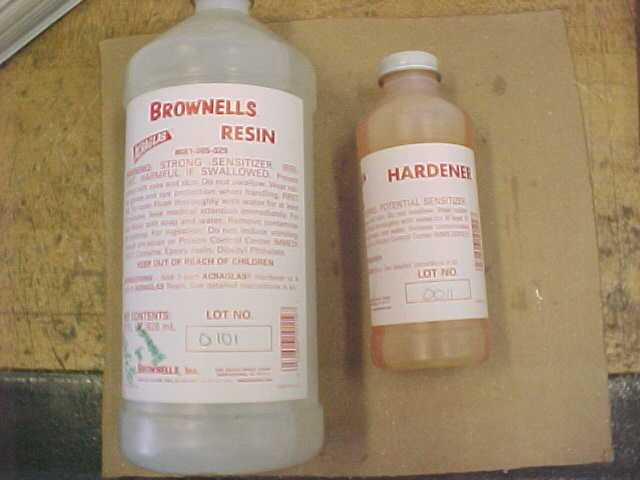 AcraGlas is a two-part epoxy. It is mixed in a four-to-one ratio and once mixed begins to set-up in 15 or so minutes. The 28 oz bottle of resin and the 7 oz. Bottle of hardener costs about $45 from Brownells. You can buy their little mixing cups, but I use little plastic throw-away "shot-glasses" like they use at rowdy wedding receptions. Also good are little plastic condiment cups like you get mustard and relish served to you.
AcraGlas has the consistency of water when mixed, and can be thickened by adding chopped fiberglass "floc". You get a whole bunch of floc for $9. For some close-up views, see the lower photos on this page.