IF YOU GOT HERE VIA A SEARCH ENGINE

THIS WILL TAKE YOU TO THE WAGNER HOME,

This will take you to

Page 1

Building a Mauser Match Rifle - Page 6

Well, the IMR5010 loads lacked the velocity to get the job done. My score in the match was 365 out of a possible 400.

To let you know what I am doing, lets look at the "MR-1 Target". This is the military Medium Range 600 yard target.
The black is 36-inches across:
the 10-ring is 12 inches in diameter: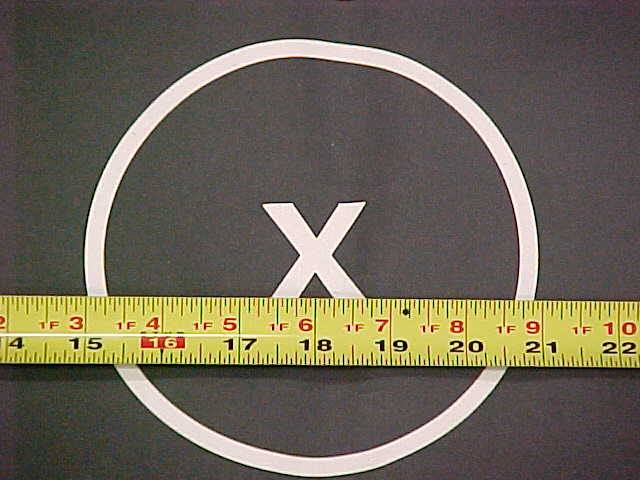 and the "X"-ring is 6-inches in diameter.
I am pretty cheap, so I only had surplus powders to work with. I started with 4895, worked up loads around 30 Grains, and settled on 31.0 grains of 4895, CCI200 or Russian KVB-7 primers, the 75 Grain A-Max's, molly coated, seated into the lands.
The black dot is a 3/4-inch target paster, the hole(s) represent five shots at 70 yards.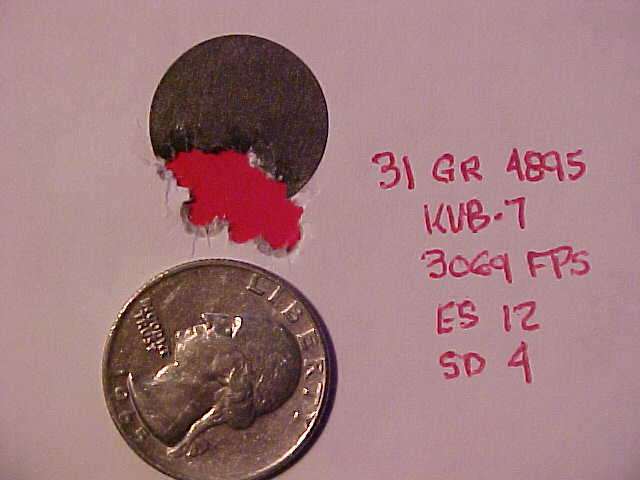 This load was giving 3069 FPS consistantly.
In F-Class Match No. 4, I shot a 387-18x's, HOWEVER, one shot was scored as a miss. This was because the plastic tip of the A-Max broke off, I found it in the magazine well after the shot. Although this was a miss, and was scored as such, it cannot be held against the rifle. Looking at my log book, I shot (including sighting shots) 21 X's and 22 10's and 3 9's.
F-Class Match No. 5 was plagued by rain and only 20 shots for score were fired. Using the same load, I shot a 195-7x's out of a possible 200.
I think this rifle system, that is rifle, scope, ammo, and shooter is capable of 1 MOA at 600 yards. Not bad for a $39 receiver, $114 barrel, and $65 scope!