IF YOU GOT HERE VIA A SEARCH ENGINE THIS WILL TAKE YOU TO THE WAGNER HOME
F-Class - 600 Yards at Reade - Match No.1
May 12, 2002
4 shooters showed up to compete in the first F-Class match of 2002. The day dank, raining, thundering and many shooters stayed home (rain was falling over most of the state during the drive-in to the range).
Compare this view from the 600 yard line with this view taken the day before from the 1000 yard line.
With four shooters, just two targets are needed.
The two targets are operated by two of the shooters while the other two shoot. The targets rise and fall in counter-balanced wooden frame. They are pulled down after each shot and a large white or black cardboard disc is used to mark the center of the bullet hole. When the target is returned to the up position, the shooter can see his/her shot placement and react accordingly.
These are the tools of the F-Class shooter, a scrap of carpet, spotting scope, rifle rest, ammo and rifle. This rifle is a scoped Turkish Mauser re-barreled to 6.5x55.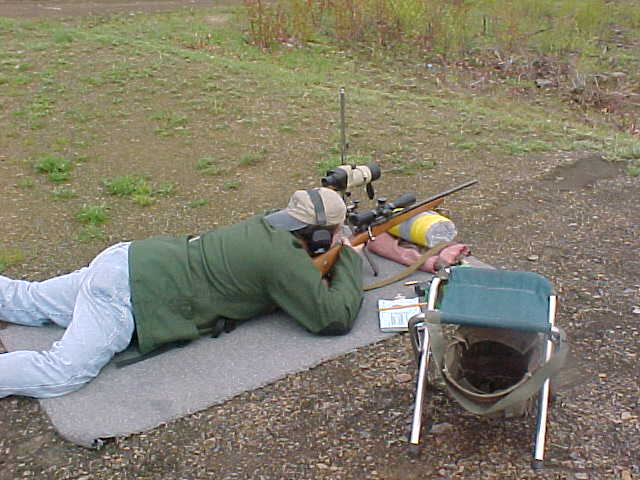 The F-Class shooter at work J . Here we can see his score book and seat/carry bag.
The match was won by Francis Hartline, using a borrowed rifle, shooting 6.5x284 ammunition, with a score of 359 and three X's. (Out of a possible score of 400)
The other shooters:
Steve Wagner using an AR-15 based match rifle with iron sights in .233 cal. - 357-6x,
Neil Proctor using a Turk/Swede in 6.5x55 - 350-5x, and
Ron Yingling using a Win. M70 in 30-06 cal. - 331-2x.