IF YOU REACHED THIS PAGE VIA A SEARCH ENGINE THIS WILL TAKE YOU TO OUR HOME PAGE
THIS WILL TAKE YOU TO PAGE ONE OF THIS SERIES
Modifing the M16/AR15 Service Rifle Front Sight
Page 2
The second modification is done for two reasons. First - If your rear sight is not centered, that is if the aperture is off to the left or right when the rifle is sighted correctly, the correction is to rotate the front sight. Second, the sight base is designed to be "pinned" through the barrel with two tapered pins. If you don't want to introduce stress into your match barrel (from the tapered pins) then this modification is the answer. Either way, the modifications to the base are the same.
If your base is mounted to a barrel, you need to remove it. First, remove the flash suppressor and gas tube.
With the barrel/base supported (a piece of wood works fine) the TAPERED pins are removed, use a large punch and stout hammer, some are really tight. TAPERED means two things, one, the pin will fall out after very little movement, and two, you MUST drive the pin from the small end, usually the left hand side when the rifle is viewed from the rear, or firing position. Anyway, inspect the exposed ends of the pins and work on the small ends.
With the pins out, the base is slid forward and off the barrel.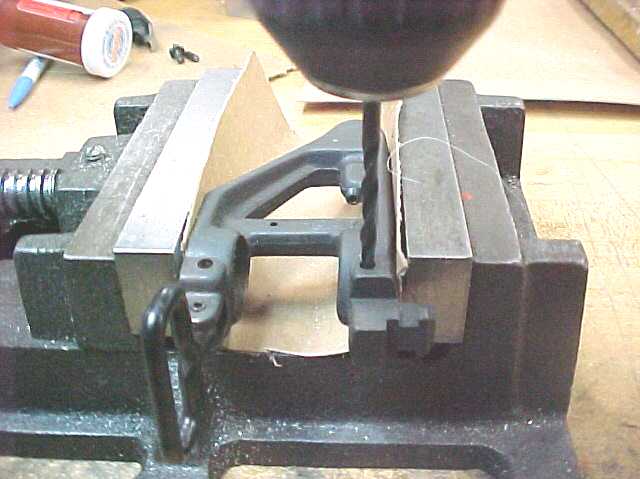 Using a #29 drill and a hand held driver, drill through the pin holes. Start from the side with the larger holes and drill through the smaller holes. Don't worry if the drill doesn't remove any metal from the larger holes. By drilling through this way, the holes are kept straight.
Next, tap the drilled holes using an 8 x 36 tap. DO NOT tap through one hole and continue on to the other. Tap each hole individually.
Once all the holes have been tapped, remove any burrs with a small piece of sandpaper and a finger.
Depending on the manufacturer of the base, the hole beneath the sling swivel may also be drilled and tapped, but sometimes it will be too large.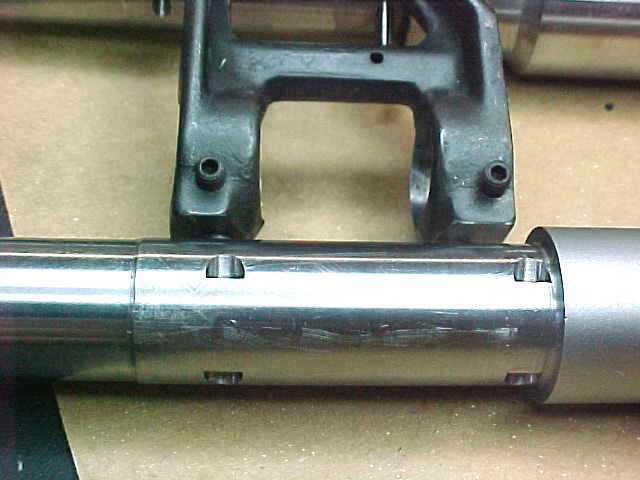 Here is a base that has been done, ready for installation.
And here is a base that has two additional set-screws added to the bottom, and has had the bayonet lug and front sling swivel removed.
For some more photos and related info check out this link.