IF YOU REACHED THIS PAGE VIA A SEARCH ENGINE THIS WILL TAKE YOU TO OUR HOME PAGE
THIS WILL TAKE YOU TO PAGE Tone OF THIS SERIES
Fixing an I.H. LA/LB Fuel Tank - Page 1
A friend asked me to sell an International LA at the upcoming Coolspring Engine show. He had received the engine from a co-worker and had never operated the engine. It had set in his shop for about 15 years. When he got the engine he was told that it had not been run for many years and that the fuel tank leaked.
I.H. says that not having a drain on the tank was a selling point, allowing easier insurance requirements for indoor use. They also placed the tank almost flush with the engine skids, allowing the tank bottom to sit on the ground when used outdoors. These two "design features" guaranteed that the tank (bottom) would rust away.
Sure enough, when the bottom of the tank was sand blasted, lots of holes came to light. Those black dots on the right are holes, and there are some that can't be seen in the photo.
I wanted to keep to paint as original as possible, so I decided to install a new tank bottom with epoxy, rather than welding or soldering.
A piece of heavy steel was cut on the bandsaw and fitted using a pedestal grinder.
The "other" side of the new bottom and a 3/8-inch area around the bottom side was sandblasted very well. The some Brownells AcraGlas was mixed and painted so as to cover ALL the blasted metal, both on the old tank bottom and the blasted areas on BOTH side of the new bottom. (Brownells is a supply house for the gunsmithing trade. If you are reading this, you should become familiar with some of their "stuff". Working on firearms and working on old engines only differs by an order of magnitude of weight.)
After coating a the blasted areas, the new bottom was fitted in place and about 150 pounds of lead was used to hold everything in place. Excess AcraGlas was poured around the blasted area at the perimeter.
As mixed, AcraGlas is like very thin syrup, and will not stay on a vertical surface. It runs like water, and is great for holding hammer handles (third photo down).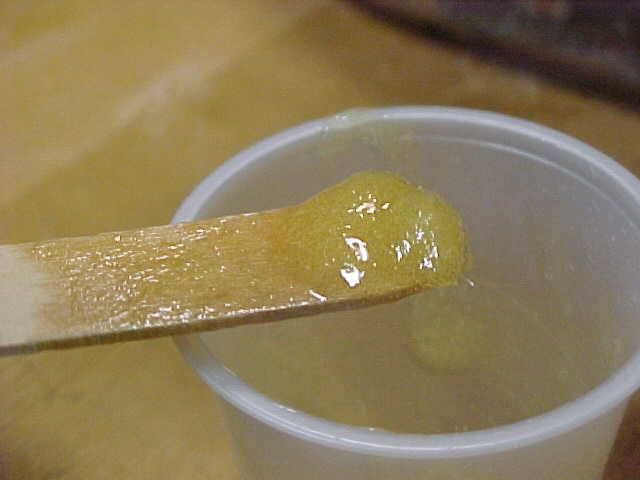 BUT, when mixed with chopped fiberglass "floc", it develops the consistency of Vaseline. After the first application of "thin" AcraGlas had begun to set-up, a fillet of thickened Glas was built up around the perimeter joint. (Without removing the weights)