IF YOU GOT HERE VIA A SEARCH ENGINE

THIS WILL TAKE YOU TO THE WAGNER HOME

A WW1 "Dog Tag" Set - Page 2

These photos were sent to me by Sarah Johnson, they are from her grandfather. She writes;

I just found a dog tag similar to the one on your page --
---------------
The one I have belonged to my grandfather who also served in France during
WW1. His is stamped onto the back of an 1811 5 Franc piece and reads:
"Cedric R Johnson No 4 138th AERO SQDN USAS 712759"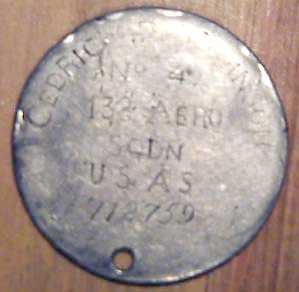 As you can see, this one is on a French coin dated 1811. If you have anything like this or know anything about "tags" like these, please E-Mail me or Sarah